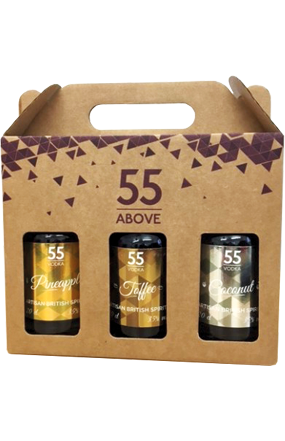 55 Above 'Flavours' Vodka Gift Pack
£37.50
Our gift packs are the ideal present for those who love vodka. This pack contains 3 x 20cl bottles of our flavoured vodka infusions. Mix & Match options also available on request.
Description
Experience the true taste of a quality British vodka with this multibuy offer containing our three flavoured vodkas.
This mini vodka gift pack is a must have when looking to try our Artisan British Spirits. They are a great size for sampling or an ideal gift for that vodka lover that we all know.
Contents include:
55 Above Toffee Vodka (200ml) 35% abv
Perfect served chilled and on the rocks, or in a Tempting Toffee Martini, this intense toffee flavoured vodka is certainly packed full of flavour! Free from any artificial flavourings or additives, this vodka is infused with our special natural toffee syrup, giving a tempting creamy toffee taste with the delicate aftertaste of our classic vodkas.
55 Above Coconut Vodka (200ml) 35% abv
This coconut flavoured vodka is infused with real coconut pieces during production to create a deliciously smooth and fresh coconut flavour with a crisp aftertaste. Complimented with its light and refreshing aroma this vodka will bring the sun-kissed Caribbean to everyone.
55 Above Pineapple Vodka (200ml) 35% abv
This exotic creation is 100% natural and infused with real pineapple pieces, which creates an exotic spirit that is packed with citrusy notes. Simply serve with ice cold cola to enhance the refreshingly tropical taste of 55 Above Pineapple – A perfect summertime beverage.